Participation for a good cause
By entering your photos into the CEWE Photo Award 2019, you'll be doing something good. For each photo submitted, CEWE will donate ten euro cents to SOS Children's Villages - a sustainable investment in the next generation, in social stability and in the future of our beautiful world.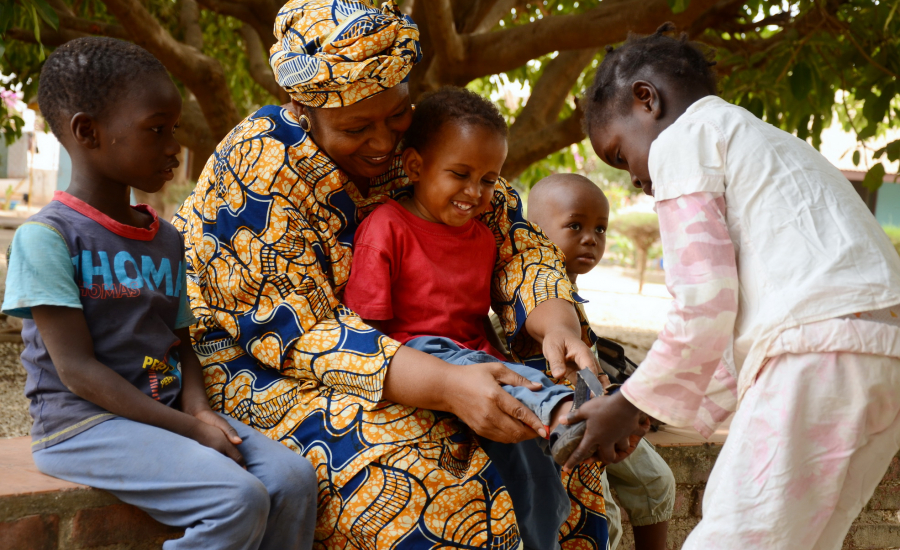 CEWE and SOS Children's Villages International
Since 2013, SOS Children's Villages International and CEWE have been closely associated in a partnership. During that time, the long-established CEWE company, based in Oldenburg, Germany, has donated more than a million euros for families and children in need. Alongside long-term projects, CEWE provides support to current emergency aid projects as well. In 2017, the latter included the care of children during the famine in Somalia and humanitarian aid measures in the Diffa region in the borderland between Niger and Nigeria. For CEWE, cooperation with SOS has evolved into a matter that is near to our heart. Along with providing financial support, the company is involved with commodity donations and the volunteer work of many of its employees at its respective locations in Germany and Europe. Thus, especially close relationships have developed with villages associated with this organisation in Ghana, Hungary, the Czech Republic, Poland, Austria, France, Germany and Belgium. SOS Children's Villages International honoured CEWE for this multifaceted and extraordinary social involvement with its first Excellence Award. "CEWE views its business success as an obligation to society in a very unique way. Thanks to their long-term support without red tape, we have been able to initiate and successfully implement a large number of aid projects," says Sabine Fuchs, Managing Director of SOS Children's Village Global Partner, in recognition of the sustainable contribution to the common good by the CEWE group. In 2018, the company is again donating a sum of 250,000 euros to facilities in Germany and for selected international projects that provide support to children and families in need.
About the organisation
SOS Children's Villages International
is an independent, non-governmental and non-denominational relief organisation for children that is active worldwide. The organisation has made it its mission to guide abandoned and suffering children into a better future.
Origin
In 1949, Hermann Gmeiner built the first SOS Children's Village in Imst, Austria. He actualised an idea that was just as simple as it was seminal: Each child needs a mother and is reared most naturally together with siblings in a house of their own within a village community. This approach in the spirit of strengthening the family turned SOS Children's Villages into pioneers of child care and found worldwide recognition over the following decades.
Friends and sponsors in Germany: Backbone of the countries
When the first SOS Children's Village outside Europe was built in Korea in 1963, Hermann Gmeiner founded a society in Germany for the support of SOS Children's Villages all over the world: SOS-Kinderdörfer weltweit – Hermann-Gmeiner-Fonds Deutschland e.V. (SOS Children's Village International – Hermann Gmeiner Trust Germany). The society has evolved into the financial backbone of the international relief organisation for children.
Thanks to the support of its many friends and sponsors, the society has been able to build SOS Children's Villages on all continents, providing children in need with a home. Today, there are 575 SOS Children's Villages and 2,134 further projects around the world. As a relief organisation for children, they make a sustainable contribution to the development of communities in poor countries. They do so through educational work and self-help projects for families. In addition, there are emergency aid campaigns after natural disasters and in areas of crisis. Today, 1.5 million people benefit from these activities worldwide: children, adolescents and family members.
Active in over 130 countries
SOS Children's Villages is a relief organisation for children in need that is active in 135 countries. The organisation consists of a network of more than a hundred associations that has grown over decades, which are rooted in their respective countries and united under a common umbrella organisation. Incidentally: Our SOS-Kinderdorf e.V. sister association is the support organisation of SOS Children's Villages in Germany. The worldwide success of the SOS Children's Villages is based on the connection of autonomous local responsibility, global activity and as simple, timeless idea.